ABCs to ATMs
The Case for Paying Students To Learn
(Free Digital Version) – Read the book that redefines education from courses students pay for to Learning Gigs that pay the student.
Solves many of the problems in education

Saves schools money

Improves academic results

Helps teachers love teaching again

Based on classroom research that saw dramatic results in weeks
Choose Format: PDF | ePub | Web Version | Amazon | Barnes & Noble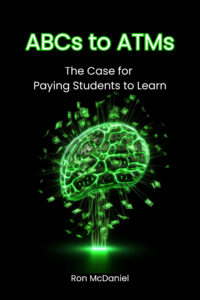 Paying students to learn is often confused with socialist ideals. The implementation certainly could be a simple redistribution of wealth. But when students must work to earn, it is pure capitalism.
read more
When students are paid to learn, cheating is no longer just academic. It is financial fraud and has serious consequences.
read more